AUGUST 2011

It has been a very long time since I have updated my website! Well, over a year.

I added a lot of work from 2011. There are six new paintings in the Paintings section labeled "Paintings 2011." There are also new drawings and sketches in the Drawing section labeled "Drawings 2011."

There is a new drawing in the comissions "Past Work" section.

My e-mail address has also changed. The best way to contact me is by emailing me at mindyroth09@gmail.com



There is now a Facebook page for fans of Mindy Roth! Click here to my artwork.

More large drawing collages coming soon!


July 6th 2010 - New drawings have been uploaded to the Big Collages page and to the Custom Works section. More to come in the next few days.

November 9th - I found the P is finally finished after four different printings. The third and final printing includes 56 black and white pages with 18 illustrations.

Each copy is printed by hand and bound with tape. Every cover color is unique.

Order your copy through Etsy.com for $13 plus shipping & handling.

June 19 th - Tomorrow I will be taking part in "Paws For A Cause" benefit concert and silent auction benefiting the Harlequin Haven Great Dane Rescue of Central Ohio.

It all takes place this Saturday, June 20th, 2009 from 1:30 to 4pm. There will be a silent auction of doggy related artwork of which I am auctioning two pieces off for charity.

The benefit will be held on The Ohio State University campus at Weigel Hall Auditorium 1866 N. College Road Columbus, OH 43210.

In addition, I have made a separate commissioned works page. It includes an order form, examples of past commissions and a detailed list of what to expect.

Check it out! I hope this will make it easier for anyone interested in a custom made drawing!

April 20th - There is a new drawing in the commissions section under 'P World Gifts'. I haven't updated much lately... And need to get to scanning things.

Happy spring everyone!


January 18th - I added a new Valentine's Day set of drawings to the site. There are six pink and red sentimental mush mush love reflections to peek at.

There are six new sketches to be seen on Sketches Page #4.

Also, if you look in the New Drawings section, you will see four new pen and ink drawings.

Happy 2009 everyone! Stay warm in this blizzardy cold weatherstorm.


December 28th - I added links to four commissions I did during the holiday season. They are, interestingly, all portraits of dogs.

Do you have a favorite pet that you would like incarnated as a Mindy Roth original? Just e-mail me!



November 30th - I added my new large collage to the Big Collages page. It's basically about the myth of Leda & the Swan and the reality of all of these awful fake lady beetles invading my home.

There are also new sketches, new drawings in the new drawings section and new pen & ink work. I have been trying to get some things going before I get too busy to work on them.

Also, on the top navigation bar is a link to my new music blog called 'Stupid Party'! You can download songs and watch videos.

November 19th - A new drawing is coming soon. Big. Collage. Drawing.

October 19th - The P World gifts section has been updated with two recently made birthday presents.

October 2nd - There are two new drawings over in the Pen & Ink section. One might not even be done yet. I haven't decided. There are some new sketches up, too. Happy fall, everyone!

September 4th - I finished a new painting. It's collaged and painted cardboard. I didn't know where to put it... So it is in the Junior Seminar page even though I am a year out of school now. Seeing Double.

August 14th - I added a link in the P World gifts elephant section. I also added a new altered drawing to the Sketches page.

July 15th - More old artwork has been added to the older artwork section. Figure Drawing assignments and prints from the Fall of 2005. Way back. Tiny additions and subtractions to the website in general. I'm working on a new series of paintings on cardboard, but that as usual, is slow-going. I'm out of yellow.

The links section has been revamped.

July 14th - Look on the Big Collages page and you will find two new drawings I made in June. These were both part of my exhibition at SPICE bar.

I uploaded some new drawings onto my Etsy account for sale. Drawings previously put up a few months ago have had their prices greatly reduced.

July 13th - I added one new sketch to the sketches page and one pen and ink drawing to that section. I'm still working on getting digital images of some of my drawings in the SPICE Bar show. My camera isn't doing so hot, so that hasn't been easy. Happy summer, everyone!

On June 19th I will be one of the featured artists in ROY G BIV Gallery's annual fund raising event. It will be held at SPICE Bar from 6-9pm. Tickets are $30 and include drink specials all night long.

My work will be shown along with Sharon Bell, Randy Hunter, Jacqueline Jasonowski, and Stephanie Rond. There will also be an haute couture fashion show by designers Andy Jordan and Kristin Costa, Anne Holman, and Horst.

Spice Bar is located at 491 N. Park Street in the Arena District.

For ticket sales, contact ROY G BIV at 614-297-7694 or info@roygbivgallery.com

May 26th - I added a new drawing to Sketches page #3.

May 5th - I woke up early today and made ten new drawings. They are in the New Work section. I think my scanner is on the fritz, so the image quality is kind of bad.

I hope to have cooler, bigger drawings completed soon. I am also looking forward to photographing some old prints and life drawing assignments from several years ago.

I will be showcasing some of my drawings in ROY G BIV Gallery's annual Fundraising event on June 19th. I will post more details about this soon.

Check out my links page to see who I will be sharing wall space with!

April 28th - I have been busy lately and haven't had much time to make any new drawings. Somehow I found time to take pictures of some older artwork this weekend, though. Most of it is from my sophomore year, so it's pretty ancient stuff.



Annie Hall figure drawing, Sophie Callie stuffed bust, and a linoleum block print based on the Diane Wakoski poem Oranges for Jeremiah.

March 31st - I uploaded images of a commissioned piece I just completed. One of my largest collages yet, and totally awesome to make! You can find more photographic evidence on the Large Paper Collage page.



Also, I have been chosen to participate in Agora 2008 here in Columbus. I will be displaying my drawing Shut Up Boy and Be a Soldier on Saturday, April 19th at 3pm. More information can be found at http://www.agoracolumbus.com/



March.... 19th - So you can now buy original artwork by me at Etsy.com. I only have 9 things for sale but I will probably put some more stuff up soon. Some day it would be neat to get t-shirts or stationery printed up and for sale but I don't really know when that glorious day will come.

March 27th - For the nine new drawings I put up in the Drawings (New Work) section I returned to my totally old-school nearly comic drawing style--lots of writing. I haven't really done anything like this since my little zine bookie It's Bound to Happen or my Chatto & Windus Almanack drawings like two years ago.



March 22nd - Happy Spring! I uploaded one new drawing on the Pen and Ink/Marker drawings page. It's only one measly drawing but it seems whimsical and fun to look at.

March 10th - There are a a few new Sketches located on page 3. One is a drawing I made long ago (#1 in 2006!!!). Plus, a silly left over bball drawing called "Looks Good Small". Yep.
wiki wiki TRENDZ

March 5th - A new drawing is up in the Large Paper Collage section. It is big and bad and about killer bball games. Lots of dramatic shadow. Check it out.

February 23rd - I put up 5 new marker drawings up in the pen & ink section under drawings. Click here to visit them now.

I am in the process of setting up a CafePress account with some things for sale. I have heard both good and bad things about the quality of their products.

If you have any first-hand experiences in working with them, please e-mail me.

February 5th - I have two drawings in an upcoming group show at the Columbus Metropolitan Library Gallery for the Pulp art: Works on Paper exhibit. It is sponsored by the ROY G BIV Gallery.

The opening is Tuesday, February 12th from 6 - 8pm, and the show runs from February 12th to March 28th!

You can view one of the new drawings on the Large Paper Collage page.
January 12th - I made a page for the drawings I submitted for
Penny-Ante #3 back in November... ANNIHILATION THEME.

| | |
| --- | --- |
| | >>> Added a big, unsent gift-drawing to the Large Paper Collage page. It will get where it belongs someday! |


The Sketches page has been re-organized for easier viewing.
Also, the About Me section has been updated with more current information.
January 11th - I edited the Chatto & Windus Almanack Drawings page. There are now 10 drawings accompanied by their yellowier, computer-edited doubles.
The Christmas drawings I made for my friends are online under the
P World gifts section. So much fun!
December 28th - I added a new cloud painting to the Paintings section here.
More updates later today.
October 26th - Well here we are! Finally at MINDYROTH.COM
For those of you who have visited before, this is what's new:

A new set (10) of drawings entitled Precious Metals
is in the drawing section.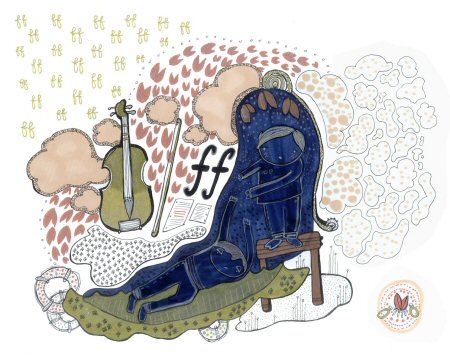 These were really really difficult to photograph and scan. It's because I used gold, silver, and bronze metallic pens. I tried a thousand different ways and could barely capture their true, sparkly nature. Zoomies on the side of the main image are a sad attempt to display their luster.

+ There is a whole new page of sketches up!
+ There is a new painting up in the Miscellaneous paintings section. It's from like 2004.
+ There are several new pieces up in the *New Work* Drawings section.

August 8th - I now have my domain name. I just have to upload everything to the address. I also finished putting up pictures of my senior comprehensive project. Why is summer almost over? Way lame.
July 23rd 2007 - Just a few last pages and I'll be done with the basic website. Some things won't be accessible for a while yet (like Mary Ellen Bloodbeat and the Pink Egg) but sit tight. I plan on getting the movie Liz and I made in the Spring of 2006 strung together and uploaded here. Also, my Flickr account will be the home of in-progress photographs and more.
It's very important that you report any missing links or broken images. I know I haven't caught all of them, and it would be a huge help.
PS: This won't actually be MindyRoth.com until I buy a domain name. For now, it is
http://mindy.easy48.com
July 20th 2007 - The site is nearing completion and I will be setting a launch date very soon. It has had several designs but I feel this one is finally working. Here's a look at the others that didn't make the cut.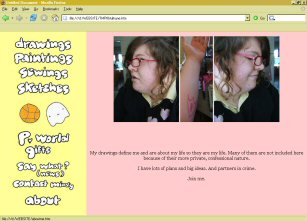 ----
end transmission